A Memorandum of Understanding on Training Cooperation in the Field of Innovation between the Visegrad countries (V4), the State of Israel and the International Visegrad Fund was signed in Jerusalem on 18 June 2018.
Mr. Yuval Rotem, Director General of the Ministry of Foreign Affairs of the State of Israel hosted the signing ceremony. On behalf of the Hungarian V4 Presidency, Mr. Levente Magyar Deputy Minister of Foreign Affairs and Trade of Hungary attended the event. V4 countries were represented by Ms. Jadwiga Emilewicz, Minister of Entrepreneurship and Technology of Poland, Ms. AlexandraVelická, General Director of the Slovak Innovation and Energy Agency and Mr. Karel Pažourek, Chargé d'Affaires of the Embassy of the Czech Republic in Tel Aviv. On behalf of the International Visegrad Fund, Mr. Marek Pavlík Deputy Executive Director signed the document.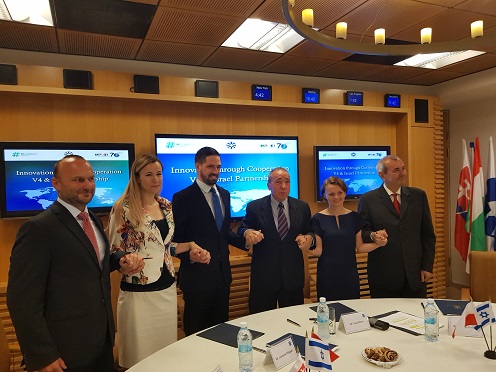 The Memorandum of Understanding is a result of the fruitful cooperation between the V4 countries and the State of Israel in the field of innovation. As a follow-up to the Summit meeting of the Prime Ministers of the Visegrad Group and the State of Israel that took place in Budapest last year, the V4+Israel Working Group on Research, Development and Innovation (RDI) was formed under the auspices of the Hungarian V4 Presidency. The Memorandum of Understanding lays out the first project elaborated by the Working Group, which offers a short-term, intensive training program for the V4 countries' selected entrepreneurs to familiarize themselves with the best practices of the world-class Israeli innovation ecosystem.
This is the first step in our joint efforts to enhance the innovation partnership between the Visegrad countries and the State of Israel, with the objective of strengthening the competitiveness of our economies and enhancing our mutually beneficial partnership.
Ministry of Foreign Affairs and Trade of Hungary